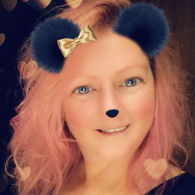 Steffanie D
About
Everything in life is better if you are having fun! Being slightly insane is just a bonus!
Favorites
Favorite TV Shows: Outlander, Firefly, Goldbergs, Vikings - and since I don't follow directions well and have way more than 4, also – NCIS, Lucifer and The Big Bang Theory
Favorite Movies: Flash Gordon, anything James Bond, Howard the Duck, Clerks, Shaun of the Dead, and Godzilla, King of the Monsters (1956 US Release)
Favorite Music/Groups: Halestorm, Kevin Spacey, Lady Gaga, Bob Seger, Barns Courtney, and Flogging Molly
Favorite Sport/Team: Extreme Ironing, Cheese Rolling and Underwater Hockey
Favorite Drink/Beer: I'm a Vodka Girl!
Team Name: Helen Keller's Driving School
Trivia Category: Obviously not Sports
There were no results found.